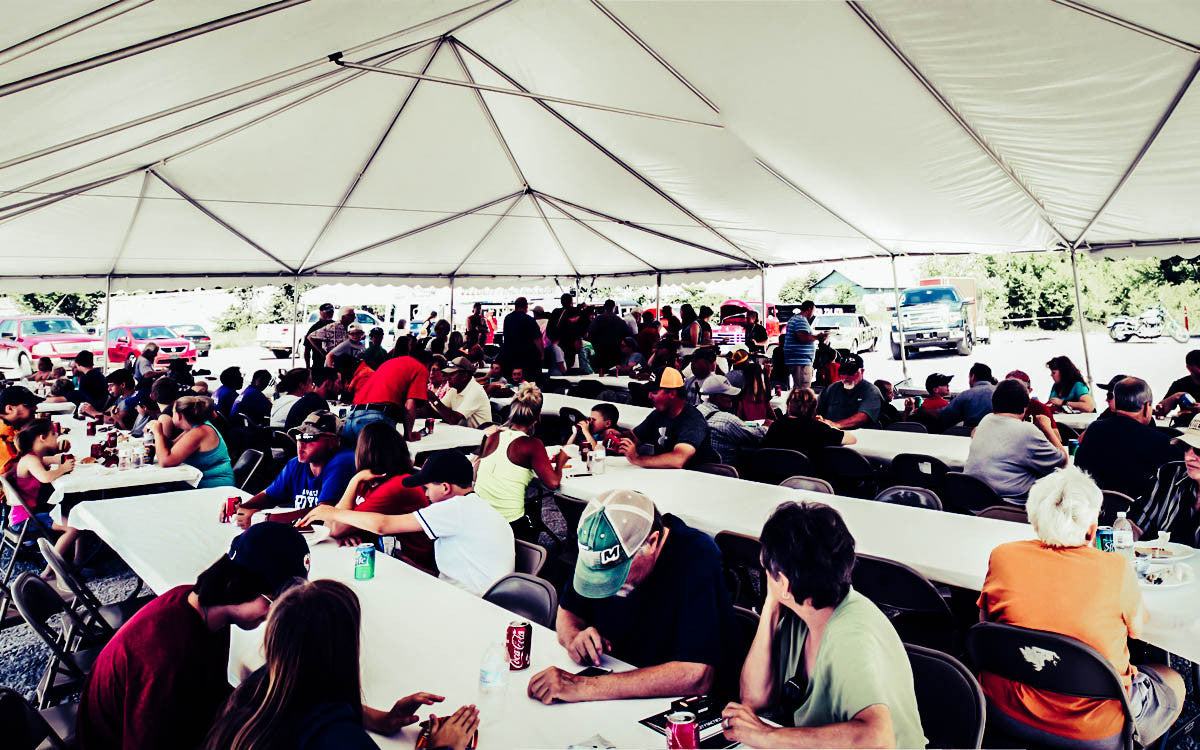 Fort Scott Munitions™ Grand Opening
It has now been a month since our grand opening at
Fort Scott Munitions™
and what an incredible month it has been! Today, we look back on the huge success of our grand opening that was on June 4th and enjoy how much we have grown since then. While the store front has been open to the public since April, we decided it would be great to tie our grand opening in with the 35th Annual Good Ol' Days festivities here in town with the help of the
Fort Scott Chamber of Commerce
.
Our doors were scheduled to open at 9am and by 7 o'clock, the line had already started! By the time 9 o'clock rolled around, the line had stretched down the block and into the parking lot. You could just see the excitement growing within everyone working and waiting in line.
Before the doors opened and the store front started to fill up, our store's owner, Ryan Kraft, took a moment to talk with the team to thank them for their hard work and dedication and closed with a prayer. Ryan shared, "I am amazed by the response of people joining us for the grand opening and the support of our business. I'm so thankful for all of the support."
With the excitement of the grand opening, people were happy to wait up to two hours to get in the store. In appreciation for their support and for waiting out the line in the heat, Ryan personally handed out bottled water to the people waiting. Over 1,000 people made their way through the store.
Inside the store, the team gave away 500 boxes of Fort Scott Munitions
™
ammunition! This was all while having a record setting day of sales on products such as t-shirts, hats, knives, guns and other tactical gear that you can always find in the store. Our Vice President, Greg Fess, said, "We really hope everyone is able to try out our ammo and experience the difference in performance. It is designed to multi-tumble to reduce the risk of over-penetration and to be extremely accurate."
Amongst the excitement in the store resides the
monster alligator
shot by Ryan in Florida that is 13 feet and 2 ½ inches long that weighs 980 pounds that has since been lovingly named "Bob" by Ryan's two year old son, Ethan.
As the day was heating up, so were the
Traeger
Grill's that were used to cook
Platinum Beef
hamburgers. We had planned on starting lunch at 11 o'clock but the line had already started to grow at 10:30. So from 10:45 to 1:15, outside under the big tent, we were able to give away lunch to over 600 people! They got chips, soda and Platinum Beef Black Angus hamburgers with all the fixings.
You can now even purchase a Traeger Grill, pellets, the Traeger seasonings and a variety of beef cuts from Platinum Beef in the store. "We were humbled by the support and the turnout of our community. The support of our new business has been incredible," said Robbie Forester,
Fort Scott Munitions'
General Manager.