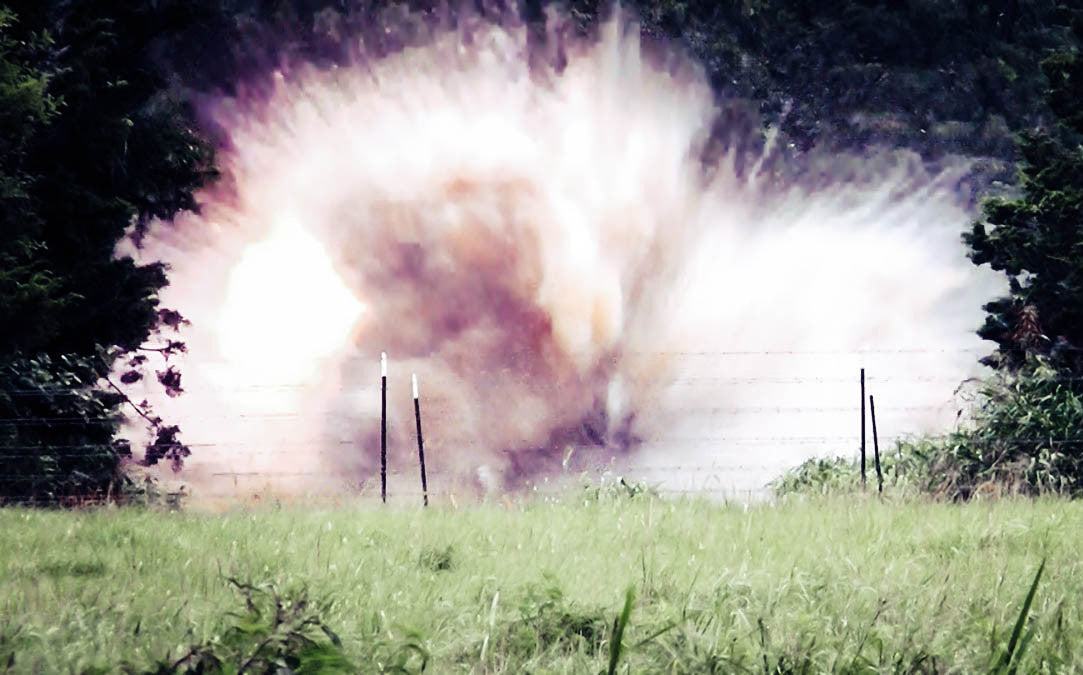 Hosting An Adventure
We recently had the opportunity to host an Adventure Incentive for Ward/Kraft and specifically their distributor, Jon Stewart, and his son, Adam. Anytime you get to spend time on the range meeting new people and following that up with a hunt you are in for some exciting times!
We planned a hunt on some land on the outskirts of town that wouldn't disappoint. As the hunt got under way, I could tell Jon and Adam were like two kids in a candy store. With rifles in tow, we were on the hunt for a Mouflon Ram. "I've never hunted anything before," said Jon, "but the [Fort Scott Munitions
™
] team made it one of the best experiences I have ever had and first class in every aspect."
As we hiked through the dew soaked grass, everyone's heads were on a swivel looking for our target. As we crested the top of a hill, we could see about 300 yards off the Ram we were after.
We held our position there for a moment, got set up, and luckily enough the Ram was moving in on our location. As the ram inched his way closer Adam got ready for his shot. The ram stopped 215 yards out and Adam took the shot. It was a fantastic hit! The ram dropped right where he stood. "Great shot!" we all exclaimed. There were high 5's all around. There's something special about taking someone out for their first hunt, see what you're after, and have 100% success. It was an awesome opportunity to be able to take someone from California, where gun laws are so strict, on a hunt and also get to shoot a wide variety of rifles while they were here that they otherwise wouldn't have been able to shoot. That was a wrap on the hunt…but the day had just gotten underway.
After the successful hunt we knew our day was off to a great start, but we hadn't even had breakfast yet! We had a full day of activities planned for the guys so we headed in to NuGrille, a local diner, for breakfast. As we were eating breakfast and going over a few of the activities planned for the day we could see a storm rolling in so we hurried through our meal and headed over to Ward/Kraft where we had a big surprise waiting.
As we pulled in, they saw exactly what we had planned next. The guys at Fort Scott Munitions
™
had set up the cannon for Jon and Adam to fire off. Right before the storm let loose, we let the guys blast a pound of black powder from the cannon; another priceless moment in the books for these guys. "You all sure know how to have a good time" laughed Adam after what seemed like an earth shaking blast of the cannon. Little did they know, we had an even bigger boom planned for them next. We headed out of town to load an old Ford Freestar Van with 50 pounds of tannerite for the biggest explosion yet. With the rain coming down, our spirits were high as we knew this was going to be something amazing. This made for a lot of excitement and a van that ceased to exist!
After the day's activities, Jon and Adam joined us back at the store for some shopping before we went down to the range for the remainder of the afternoon. We were able to shoot a full automatic 9mm AR, a Glock 19 9mm handgun and a Springfield XDM 9mm handgun. After the time on the range, Robbie Forester stated, "Jon wants to go through the process of getting firearms for himself after going on this hunt. Its great to be able to be a part of an experience that gets people excited about the same things you are excited about."
"I was able to spend time away from the business side of things and visit on a more personal level. Getting to see their appreciation for what we have going on here at
Fort Scott Munitions
and that they had the chance to do something that they couldn't do back at home was so much fun and made it worthwhile for me," shared Matt Davis.
"I felt we were treated like family," said Adam. Spending time with good people, shooting guns and even blowing up a van. Now that was an adventure for the day for sure.